Rent roof space
Rent a roof and contribute to the energy revolution
Support the energy revolution by renting out your roof area! Did you know that a roof does not necessarily have to have a south-facing orientation, but that east-west facilities or south-west or south-east roofs also have a high power exploitation and can be worthwhile? You will be surprised at how high the utilization rate and efficiency of modern solar systems has risen in recent years. Benefit now on a long-term basis leasing your roof surface, for the production of pollution free, CO2 reduced solar energy completely risk-free for you!
From the initial design and financing to the installation of the solar system, we will cover the complete work. The only thing you have to do is renting out your roof surface. Of course, we will take care of the maintenance and ensure the smooth operation of the PV system. If requested, we can then offer you solar power at a reasonable price per kilowatt hour or pay you a roof rent or lease. It has the advantage of being free of worries for you and combined with financial benefits for you.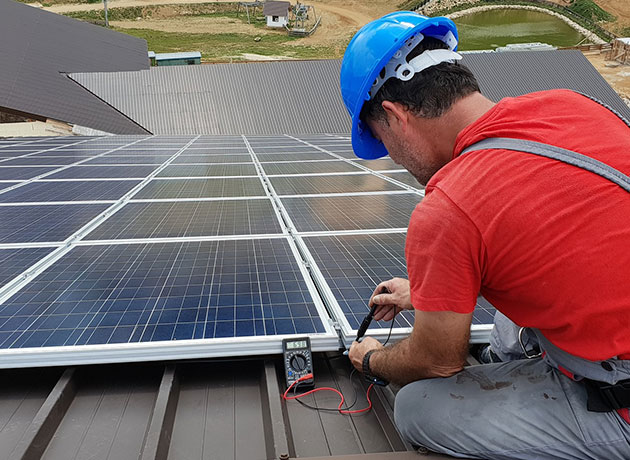 Profit by renting out your roof surface
In order to ensure a professional execution we work together with statics offices and experienced roofers. Rely with us on the final energy turnaround and counteract rising energy costs in Germany with a solar system on your roof. Sustainable, safe and financially rewarding: You can only benefit from leasing your roof. Almost every roof surface can be used for a photovoltaic system. Do you need a roof renovation for your house? We would be happy to discuss the covering of these costs and thus make your roof suitable for the future in two ways!
Various parameters make solar power a better alternative than the normal grid connection: based on an individual calculation, we will be happy to show you a possible lease payment for you! For an initial assessment we would be happy to visit you personally. The following information is required as an alternative or supplement:
Location of the building with exact address
Current use of the building e.g. office, warehouse, car dealership, agricultural building, etc.
Pictures of the building, the roof/roof truss
Excerpt from the land register
Based on this information, we can make you an offer for a long-term or advanced lease payment, completely free of charge and without obligations. In addition to our roof surface rental model, discover photovoltaic systems for your single or multi-family home, photovoltaics in agriculture and photovoltaics for haulage companies or car dealerships. Renting roof surfaces has never been easier or more profitable: we look forward to hearing from you!
Do you have any questions?
Just write us a message
We would be delighted to work out an individual solution with you. Our goal is to make clean energy accessible to everyone. We always work proficiently and provide you with innovative solutions from sustainable and renewable energy sources. Our portfolio ranges from the construction of individual energy supply systems to complex farm solutions in Africa. You can benefit from the enormous savings potential as well as contribute to the energy revolution. We look forward to implementing our energy concepts together with you!